High voltage proximity detector
This kit has eight voltage detection settings from 240Vac to 275kVac consists of an internal pickup sensor plate, a sensitivity selector, a visual and a sound annunciator. With the HVP-275, physical contact with electrical conductors is not necessary when testing for live lines as it works by proximity.
This proximity detector identifies and check live cables, find fault in flexible cables; checks earth equipment, traces live wires, checks high frequency radiation and detects residual or induced voltages. Faults in damaged flexible cables are found by applying low voltage to each conductor. Earthing the remainder and moving the tester along the cable until the change in condition is obtained. Flexible cables which are used in mining and building industries, are readily repairable when the break in the cable is located.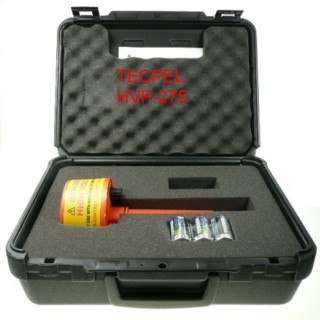 High voltage proximity detector is
now available for rental
throughout UAE.
Contact us
now to get confirmation on the availability of this testing equipment. Hire this testing kit for daily, weekly and monthly rental charges conveniently.
On demand testing equipment rentals
Our on-time delivery of equipment ensured to meet the testing requirements that are scheduled at project sites. We offer transportation for delivery & collection of equipment to all over UAE. For overnight and immediate requirements can be fulfilled with the support of client's logistics arrangement.
On site assistance and support
Our qualified testing engineer conducts testing activities with detailed report of analysis through safe and proper operation of the equipment. Standard format of test reports as recognised by respective governing authorities will be submitted on successful completion of testing activities.
Primary Injection testing equipment
High voltage testing equipment
Transformer testing equipment