High voltage AC test kit
This equipment housing the High voltage transformer of single phase, single pole type and is of double wound resin moulded construction. Also with Variable Voltage supply is provided through a Dimmerslat (Variable auto-transformer) having a suitable rating corresponding to the rating of H.V.
ManuaIly operated control transformer (VariabIe auto-transformer) with zero interlock facility. 72mm sq. double range (0-2kV / 0-5kV) moving coil rectifier type voltmeter of class 1.5, provided to read NO LOAD H.T. Voltage. Automatic tripping circuit is provided for isolation of supply, in the event of failure of the object under test. Rotary switch with four different settings of 5, 10, 50 & 100mA is provided on front panel with LED indication. Range selection switch to select 2.5kV or 5kV range with LED indication.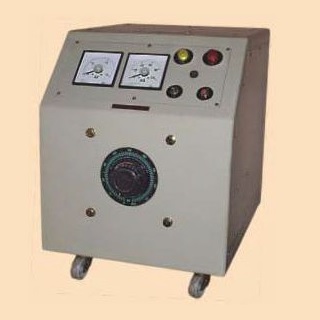 High voltage AC test kit is
now available for rental
throughout UAE.
Contact us
now to get confirmation on the availability of this testing equipment. Hire this testing kit for daily, weekly and monthly rental charges conveniently.
On demand testing equipment rentals
Our on-time delivery of equipment ensured to meet the testing requirements that are scheduled at project sites. We offer transportation for delivery & collection of equipment to all over UAE. For overnight and immediate requirements can be fulfilled with the support of client's logistics arrangement.
On site assistance and support
Our qualified testing engineer conducts testing activities with detailed report of analysis through safe and proper operation of the equipment. Standard format of test reports as recognised by respective governing authorities will be submitted on successful completion of testing activities.
Primary Injection testing equipment
High voltage testing equipment
Transformer testing equipment